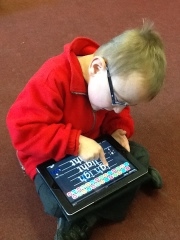 I was very fortunate to be able to introduce 45 iPads in 2011 to complement Roydon Primary School's already impressive ICT provision. I now work at another large rural school in Norfolk, as DHT and SENDco, but the school is another user of iPad technology. This site shows some of the apps that we have found useful in school, with links to their use in class. I have also linked to other resources that may prove helpful to schools starting their iPad journey. If you are starting out with iPads, then why not employ digital leaders to help you on your way. You can find out how Roydon digital leaders and other schools have helped with ipad journeys here. 
How to use this site
Click on the links above to view a range of apps to enhance work going on in school. The links on the sidebar offer tips and tricks as well as some information you might like to know. You can read some of my views about ipads in primary on my 'Carry on Learning' blog too.